Final conference: COST Action FP1407 Conference - Living with modified wood
print


COST Action FP1407 Final Conference: "Living with modified wood"
#modwood18
We are pleased to invite you to participate at the Final Conference of COST Action FP1407: Living with modified wood, which will be held at the University of Belgrade – Faculty of Forestry, Belgrade, Serbia. The conference topic is state-of-the-art wood modification research including treatments and products, their environmental impacts, and use. Special emphasis will be given to presentations addressing the relationship between well-being and wood modification. Presentations are not limited to these topics and contributions addressing varied and diverse topics are welcome.
When: 12-13th of December, 2018
Where: Belgrade, Serbia
*** Proceedings are available. ***
PROGRAMME
Day 1 - Conference-Part 1; Core group meeting
Day 2 - Conference-Part 2; Working group meetings; MC meeting
REGISTRATION
To register for the conference, please complete and return this form by email to marko.veizovic@sfb.bg.ac.rs . The deadline for registration is 01st December 2018!
The registration fee is 100€ and includes a book of abstracts, lunches, coffee breaks, and dinner.
CALL FOR ABSTRACTS
An extended abstract (1-2 pages) relevant to the topics of the conference should be submitted by email to the local organizer, Goran Milić (goran.milic@sfb.bg.ac.rs) no later than 30th October 2018. Abstracts must be written according to this template. The abstracts will be published in the conference proceedings (ISBN is anticipated) and will be ready for distribution on the first day of the conference.
IMPORTANT DATES
October 30, 2018 Abstract submission (Please use this Template)
November 15, 2018 Information of acceptance of papers/posters
December 1, 2018 Registration deadline
December 12-13, 2018 The International Cost Action Conference
Registration fee: 100,00 EUR
LOCAL ORGANISATION
The conference will be organized by the Department of Technology, Management and Design of Wood and Wood Products, University of Belgrade - Faculty of Forestry

Contact persons:
- scientific issues: Goran Milić (goran.milic@sfb.bg.ac.rs)
- organizational issues: Marko Veizović (marko.veizovic@sfb.bg.ac.rs)
SCIENTIFIC COMMITTEE
Andreja Kutnar (Action Chair); Dennis Jones (vice-Chair), Dick Sandberg (WG1 Leader), Robert Németh (WG1 Deputy leader), Christelle Ganne-Chedeville (WG2 Leader), Lars Tellnes (WG2 Deputy leader), Ana Dias (WG3 Leader), Tarmo Raty (WG3 Deputy leader), Edo Kegel (WG4 Leader), Michael Burnard (WG4 Deputy leader), Goran Milić (Host Institute), Lauri Rautkari (STSM Manager)
VENUE
Faculty of Forestry Kneza Višeslava 1, 11030 Belgrade SERBIA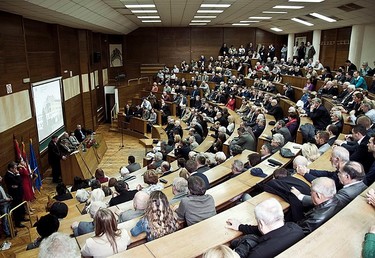 ACCOMMODATION - Recommended Hotels
Hotels in close proximity to the main venue:
Hotel Šumadija (4*): Šumadijski trg 8, Belgrade, cca. 50 EUR/night/single room (7 min walk)
Balkan Hotel Garni (3*): Požeška 67A, Belgrade, cca. 35 EUR/night/single room (12 min walk)
Radisson Blue Old Mill Hotel (4*): Bulevar Vojvode Mišića 15, Belgrade, from 100 EUR/night/single room (4 tram stations)
There are numerous hotels in the city centre. More information about hotels and Belgrade
REACHING BELGRADE:
By plane: "Nikola Tesla" airport is located 18 km from the centre of Belgrade. Taxi transfer to the city centre is approx. 10-15 EUR (1200-1800 RSD); buses (1 EUR) and minibuses also available.
By train: Belgrade main railway station is well connected with many European cities. By car: Belgrade is located at the intersection of the European E-70 and E-75 highways.
Check back soon for additional information!
Follow @ModWoodLife