print
COST ACTION 1407 AT THE RERAM FINAL EVENT IN LVIV (UKRAINE)
On May 18th, 2016 the RERAM Final Conference took place in Lviv (Ukraine).
The final event was promoting a partnership among companies, scientists, business facilitators and authorities to foster efficient use of raw materials and resources for a more competitive forestry and woodworking sector.
Main topics were:
How can resource efficiency be realised in companies and what are the benefits?
How can innovation in resource efficiency be stimulated in companies?
How can efficient manufacturing promote new markets and value chains?

Among the participants, besides Consortium members, were business support organizations, scientists, research and consulting organizations, wood processing enterprises owners, government officials, and non-governmental organizations.
At the final meeting of RERAM project have been presented number of information materials and posters about the main goals, current results and future events of COST 1407.
Special interest shown by representatives of business and government officials in matters of LCA assessment and EPD. Active discussion about cascade using, possibility and feasibility of reusing, recycling of TMT has been during event. In general, the public has shown great interest in the project, especially in its practical implementation.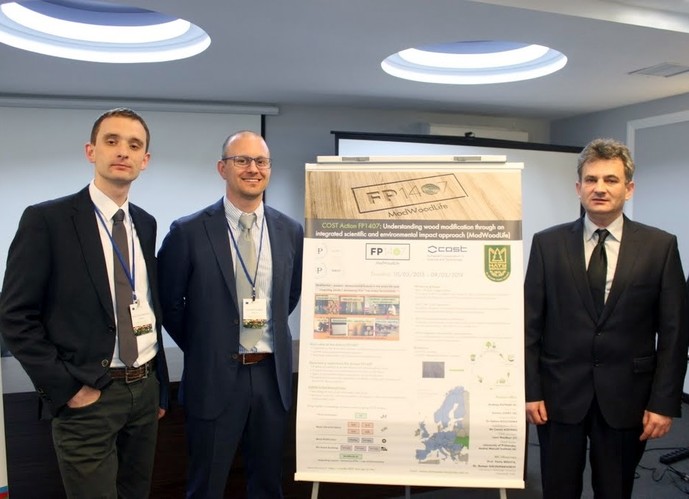 From left to right: Roman Shchupakivskyy (Ukrainian National Forestry University), Gus Verhaeghe
(InnovaWood Secretary General), Prof. Orest Kiyko (Ukrainian National Forestry University)
Follow @ModWoodLife